Fall 2018
We received call from a previous client, Houston Heavy Machinery, inquiring on possible cell phone signal booster installation service at the customer's industrial facility located in Cypress, TX. Customer had previously installed a cell signal boosting system but was not getting acceptable results.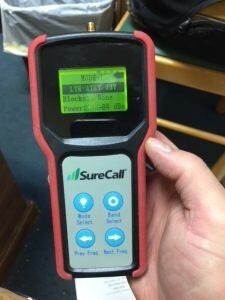 First order of business is of course always a Site Survey. Customer's building was well off the main road, in a quite heavily wooded area. We performed the standard site survey and measured signal strength both indoors and out, using the Surecall cell signal meter. Available signal levels outside at ground level alone were on the order of -70db across the board—well within acceptable range. Furthermore customer had previously installed a directional antenna and booster but wasn't getting acceptable results inside the facility. Our plan: use the customer's directional antenna and pre-run connector cable to power our Surecall Fusion 4Home booster. Surely available signal would be more than adequate, if augmented by a good booster and internal distribution antenna…
We completed installation of system booster amp in the facility attic. Fortunately the peak of Houston's searing summer heat had passed; even so, attic temperatures were quite warm.
Busted Flat in Bayou City
Standard procedure installation—right? Nope! Strangely, although the Surecall meter indicated adequate signal levels in the facility offices upon installation, we still had very little available signals on actual phones. Hmmmm…Head scratcher!
Various attempted solutions: all fruitless…Repositioning the internal distribution antenna—useless…We found the local AT&T tower and micro-adjusted customer's directional antenna—useless. Further small adjustments in view of best generalized/average band-signal levels, made no difference.
In the end the solution proved simple: we went with an omnidirectional internal signal distribution antenna, as opposed to the standard directional distribution antenna. Signal levels jumped notably inside the facility offices. Customer was happy, and we were happy to complete the job.
Another one bites the dust: another successful technology services job at Bammel TV Tech Services. In this case: cell phone signal booster installation service in Cypress, TX, Houston TX, Spring TX, and beyond. For our main page on cell phone signal boost services, click here. Call us today to schedule your site survey and get the cell signal levels you want!
UPDATE: We have had inquiries through this post re TV antenna system amplifiers. Customers desiring to obtain TV signal improvement through antenna amplifiers may wish to check here: https://www.cablecompare.com/blog/the-best-tv-antenna-amplifiers