Houston Custom Home Theater And Media Room Installers
Custom home theater was once the exclusive province of the rich and famous, but thanks to tremendous leaps in technology and affordability, it is now possible to design a home theater at nearly any price point. Whether you want a projector and a roll-down screen, a 4K Ultra HD TV and a Blu-Ray, or even a hidden system that converts your family room to a theater at the push of a button, Bammel TV Technology Services is here to help you every step of the way.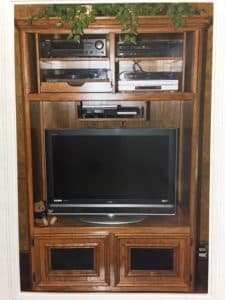 Projectors are traditionally considered the gold standard for home theater systems, along with a large movie screen. These are best used in dedicated home theater rooms with carefully controlled blackout lighting, though modern technology has somewhat ameliorated the effects of ambient light.
Increasingly, though, home theaters are relying on high-end, flat-screen TVs. A 75-inch Ultra HD television in LED, plasma, or OLED can be an excellent substitute for a projector and screen, with the added benefit of crisp viewing in all lighting conditions. Even a more modest, and vastly less expensive, 50-inch TV is more than adequate for most home theaters. Another advantage of using a TV rather than a projector is that you can choose a smart TV capable of streaming from Netflix and other popular services for easy access to content ranging from old documentaries to the latest blockbusters. If required, we also do TV wall mount installation.
As any movie lover knows, your sound system will make a tremendous difference in your overall home theater experience. The most basic home systems are 5.1 channels, but upgrading your sound is highly recommended. At a minimum, consider adding extra subwoofers to expand the bass playback over a wider area. True audiophiles might want to consider a 7.1 channel system, along with 3-D audio, which adds an overhead speaker for a more immersive experience.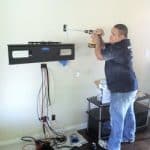 At a minimum, you need an AV receiver or the equivalent separate components. This equipment takes in information from your system devices, decodes the video and audio signals for output, and amplifies your speakers. This category also includes your cable box, Blu-Ray player, gaming system, and any other components that you want to play through your home theater. If you don't choose a smart TV, you will also need a streaming device such as a Roku, or the new StreamSmart device, unless you have a gaming device that also streams.
A remote control is often just an afterthought, but choosing a high end remote will dramatically simplify your life. Consider a top-quality universal remote with touchscreen capabilities and extensive customization options. There are also several app-based solutions, for those (like us) who live by their smartphone interface.
Room Design Considerations
In addition to being Houston's big synth repair shop, we maintain capability for field service calls on digital pianos; however on site service does entail significant additional costs. In most cases therefore we recommend transport of your instrument in to us for repair.
If that is not possible, just call and we will discuss on-site service. Rates vary by locale and distance. We are located in north Houston, however we receive keyboard instruments in for repair from around the region. Please call (346) 509-5909 for more details.
We perform digital piano, synthesizer and keyboard service and repair for companies, schools, university music labs and piano lab systems, churches and individuals from the entire Houston metropolitan area, including Katy, Cypress, Tomball, Magnolia, Montgomery, Conroe, Porter, Kingwood, Humble, through the Spring/Woodlands area, through the city of Houston proper, and from the northwest, including Crosby, Huffman, down through South Houston, League City,  Pearland, and over to the Southwest, including Bellaire, Sugarland, Missouri City, Richmond, the Med Center, Rice University area, and the Montrose area.
Why Choose Bammel TV Technology Services?
Bammel TV Technology Service has been a trusted name in appliance and home equipment repair since 1976. Today, we have a dedicated Smart Home division eager to design custom solutions for your custom home theater needs and your entire smart home. If you are ready to take the first steps, we invite you to call us today at (346) 509-5909.
WHY OUR CUSTOMERS LOVE US

My relatively new Yamaha home audio receiver lost sound for Zone 2. I saw that they were an authorized Yamaha repair facility, and I think the only one in Houston. I talked to John over the phone before I brought it in, and understood there would be a non-refundable diagnostic fee which would be applied to the total invoice (this part seems to be overlooked by many reviewers). They fixed it ahead of schedule, which was appreciated. John was very professional and made me feel like a valued customer. I'll be coming back here for any future electronic repair needs.

I'm glad I took my TV to these guys these guys were the best Bammel TV technology service really save me a lot of money I would have thrown away a good TV I would definitely recommend these guys to my friends and family.

I reached out to Bammel Tv to inquire about some repairs to my CDJ 900s. Fearful that the 4th of July holiday would prolong my repairs John was able to diagnose and repair in 3 business days. Work was exceptional and my CDJs are back running at optimal level. Thanks for your assistance John and I will definitely be back for any further needs.

This company was very professional and did outstanding work on restoring my Adam A7 speaker to spec. Will use them again in the future.

Had my vintage Pioneer amplifier recapped and serviced here- they did a first rate job in communication, turnover time, and results. It now sounds better than I ever remember it sounding.
I will use them again- thanks!

They are very professional, knew exactly what they needed to fix with the projector. Projector working perfectly since it was fixed, about a year ago. Great job!!

We had an MC2102 that was in Desperate need of a face lift and refresh, searched a few shops in the Texas area that did Mcintosh repair, and unfortunately wasn't thrilled about shipping it anywhere or driving 2-3 hours away to get it serviced. Bammel TV does great work! Polite, Responsive, takes there time, and is in constant communication during the process. Keep in mind when you have a unit like this repaired its not a quick process, but They made it worth the wait!
We will definitely use them again, and glad we found some new friends we can send our Clients too!
Cheers!
DEFINE Audio Video
The Woodlands Tx, 77380

I was a bit hesitant to drop off my equipment to this store with whom I have never done business. These people are awesome! They are quick to analyze the issue and get back with me with results and cost estimate. I wouldn't call it an estimate but rather an exact cost projection. From one VERY skeptical person (who doesn't do reviews often), to any others, I HIGHLY recommend Bammel TV for any of your AV repairs.