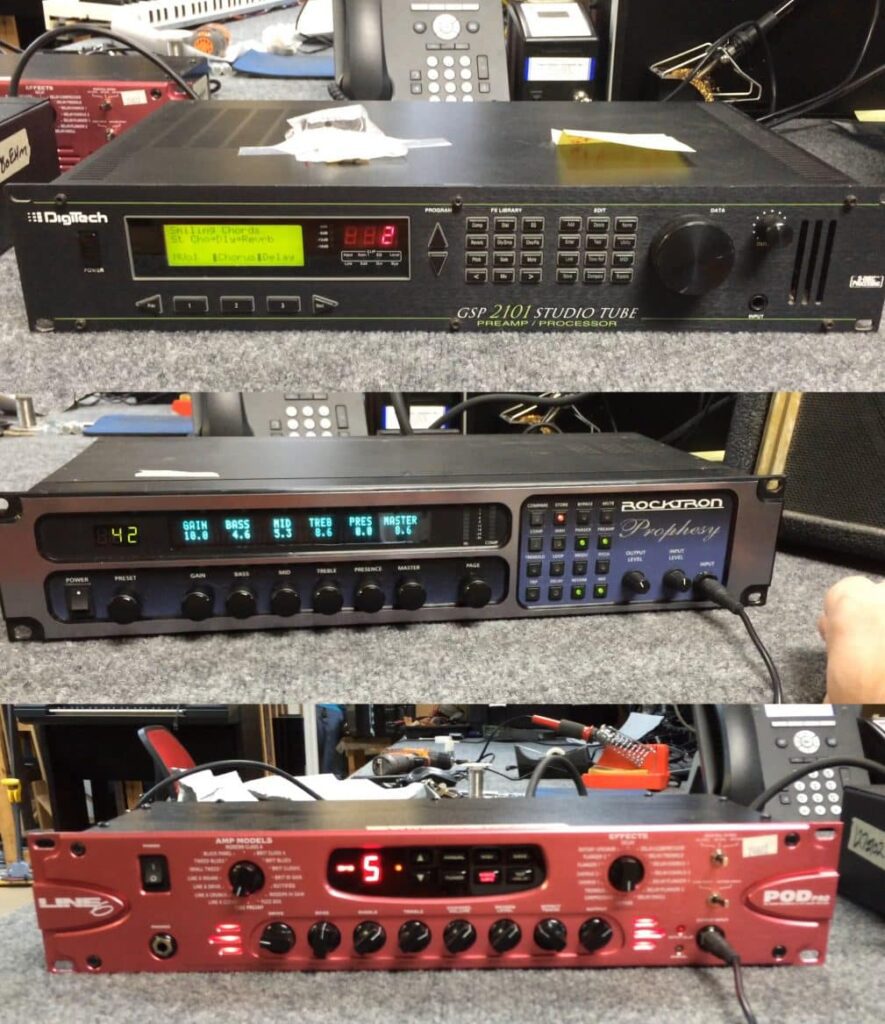 RACK GUITAR PEDAL REPAIR: LINE 6 POD PRO REPAIR, ROCKTRON PROPHESY REPAIR, DIGITECH GSP2101 REPAIR
June 10, 2016
Our report on three repairs performed on a customer's Line 6 Pod Pro, his Rocktron Prophesy, and his Digitech GSP2101.
This customer owns ALL THREE of these classic units! It's guitar pedal repair time at Bammel TV Tech Services!
Pod Pro Repair
The Pod Pro is a classic 2-rack space effects unit from Line 6. Capable of multiple simultaneous effects of the classic sorts: distortions, delays, dynamic effects, tremolo, wah, reverb, pitch shifting—a wide tableau—no, make that a panoramic sweep of tones. With dual XLR-outs as well as digital outs, and multiple possible input configurations, these were excellent machines. We haven't seen very many, but as the authorized service center/master service center in Houston for Line 6, when those products need some TLC and attention, we're the destination of choice for the customer.
In this case the Pod Pro exhibited periodic loud screeching noises—obviously hideously unacceptable for a guitarist. Specifically, the customer complained of a "Works 12 seconds, screeches 12 seconds" phenomenon. Our master techs would have liked to get the Main PCB for this repair, but it was NLA from Line 6. That left us scratching our heads…We came up however a solution: we REPAIRED the main PCB assembly fault. We ordered up an IC from China and were successful at restoring this high-quality unit.
Rocktron Prophesy Repair
The same customer also brought in a Rocktron Prophesy—one of the classic units designed by Tom Scholz of Boston. This unit was simply dead, exhibiting a no-power symptom. We isolated and replaced seven discrete faulty components, and unit is restored and back to proper operation.
Digitech GSP2101 Repair
Finally, customer also brought to us his Digitech GSP2101—another rack-mounted classic effects unit (and one of our personal favorites.) The 2101 was/is/remains legendary due to two 12AX7 vacuum tubes (or valves, as our British friends call them)in the preamp section, permitting a wide range of natural analog tones, from crystal-clear-clean to radically saturated distortions—that's in addition to a huge range of digital effects, on top of an analog compression/EQ/gating stage. Altogether a wonderful unit, which fortunately in this case required only minimal service to restore.
Summary: When you need guitar pedal repair…
Three more bite the dust, courtesy of your crew at Bammel TV Tech Services. For our main Pro Audio repair page, click here.